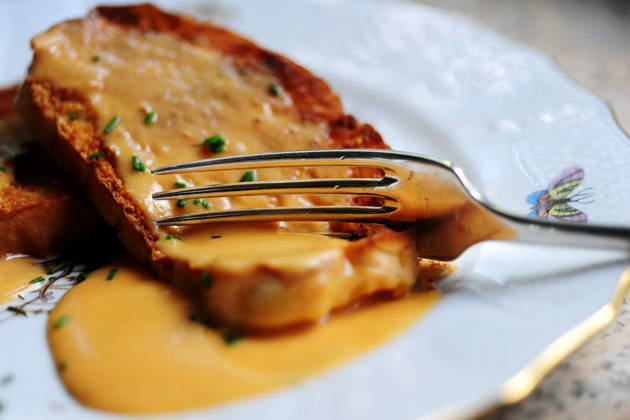 INGREDIENTS
4 tablespoons (1/2 stick) butter
2 thin slices crusty bread
2 tablespoons all-purpose flour
1/2 cup beer
1/3 cup whole milk
1 heaping teaspoon dry mustard
1/2 teaspoon paprika
1/4 teaspoon cayenne
2 dashes Worcestershire sauce
1 1/2 cups grated sharp Cheddar
1 large egg yolk
Chopped fresh chives, for sprinkling
Put a skillet over low heat and add 2 tablespoons of the butter. Toast the bread in the skillet until the underside is golden brown, a couple of minutes. Turn the bread over, toast the other side, then remove from the skillet and keep warm.
To make the sauce, melt the remaining 2 tablespoons butter in a saucepan over low heat. Sprinkle in the flour and whisk together until combined. Cook over low heat, stirring continuously, until the taste of the flour is cooked out, about 2 minutes.
Pour in the beer and milk, whisking constantly to avoid lumps, and cook for an additional minute to thicken. Add the mustard, paprika, cayenne and Worcestershire sauce, then whisk some more. Add the cheese, whisking slowly, and cook until smooth, melted and very hot, a couple of minutes. Remove from the heat and whisk in the egg yolk.
Lay a piece of toast on each plate, spoon the hot sauce over the toast and sprinkle with chopped chives.
At home, we use GUINESS BEER and adds a sunnyside up egg for Brunch or a bottle of Orgeon Pinot Noir with Tuscan Bread for dinner! Yum!