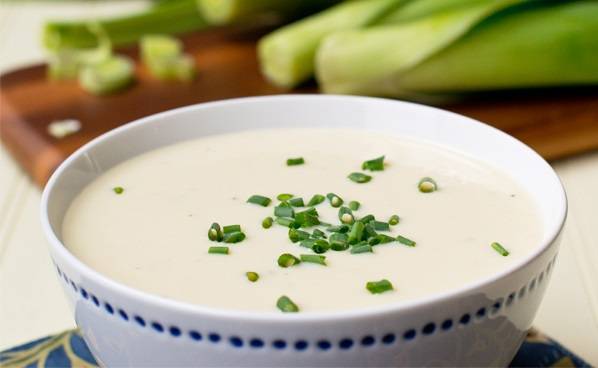 The origins of Vichyssoise are a subject of debate among culinary historians; Julia Child called it "an American invention". Was she right? HMMm here's the story…
Vichyssoise (Vee-she-su-waa-ze) soup is generally accepted as being created by Chef Louis Diat (1885-1957). Diat worked at Ritz hotels in Long, Paris, and New York. While chef of New York's Ritz Carlton, he created the cold leek and potato soup know as Vichyssoise. In the days before air conditioning, the Ritz had a Japanese roof garden and Diat was constantly on the lookout for dishes that would cool his customers in the sultry July and August weather. He remembered the simple bourgeois hot leek an potato soup his mother, Annette Alajoinine Diat, had made when he was a boy in Montmarault in Central France and how he and his family had cooled he soup by adding milk to it. And so on the rooftop of the Ritz, he prepared this same cold soup and called it "Creme Vichyssoise Glacce" after the famous spa located 20 miles from his home town of Bourbonnaise, as a tribute to the fine cooking of the region. Diat served this soup during the colder seasons, he did not include it in the menu, but so many people asked for it, that in 1923, Diat placed it on the menu full time.
NOTE : A small cold vichyssoise SHOT followed by an ice cold Vodka- is an entertaining slam dunk. Dressed properly in glass cups sitting in crushed ice- is perfect for a fancy lunch or wedding. We suggest this soup as a first course to red meat.
Ingredients:
2 leeks
1/2 small white onion, sliced
1 tablespoon butter
3 small (2 1/2 cups) potatoes, peeled and sliced
2 cups good-quality vegetable or chicken broth*
Salt to taste
1 1/2 cups whole milk
1 cup heavy cream
Snipped chives for garnish
At home, we do add garlic!
Instructions:
Trim and clean leeks (see below); thinly slice the white portion.
Cut and clean leeks – You need to thoroughly clean a leek because dirt can become trapped in its many layers. Trim the root portion right above the base (cutting too far up the stalk will remove the part that holds the layers together). Slice off the fibrous green tops, leaving only the white-to-light green stalk; discard greens. Cut the leek in half lengthwise, then cut according to your recipe (slice, chop or dice).
In a large soup pot over medium heat, saute the leeks, onions, and butter until tender. Stir in potatoes, vegetable or chicken broth, and salt. Increase heat and bring just to a boil. Reduce heat to low, cover, and simmer for 35 to 40 minutes or until potatoes are tender. Remove from heat and let cool 10 to 15 minutes.
In a food processor or blender, puree cooled mixture until smooth.
Strain, Strain, strain. Its the secret to this soup's presentation when served cold.
The soup can be made 1 to 2 days in advance up until this stage. Refrigerate until ready to finish.
When ready to serve, return mixture to soup pot. Stir in milk and cream; cook over low heat, another 10 minutes. Season to taste with salt. NOTE: Thin to desired consistency with the milk. Remove from heat and serve in soup bowls; garnish with chives.
This soup can be served either hot or cold but cold is the bomb!
Makes 6 to 8 servings.