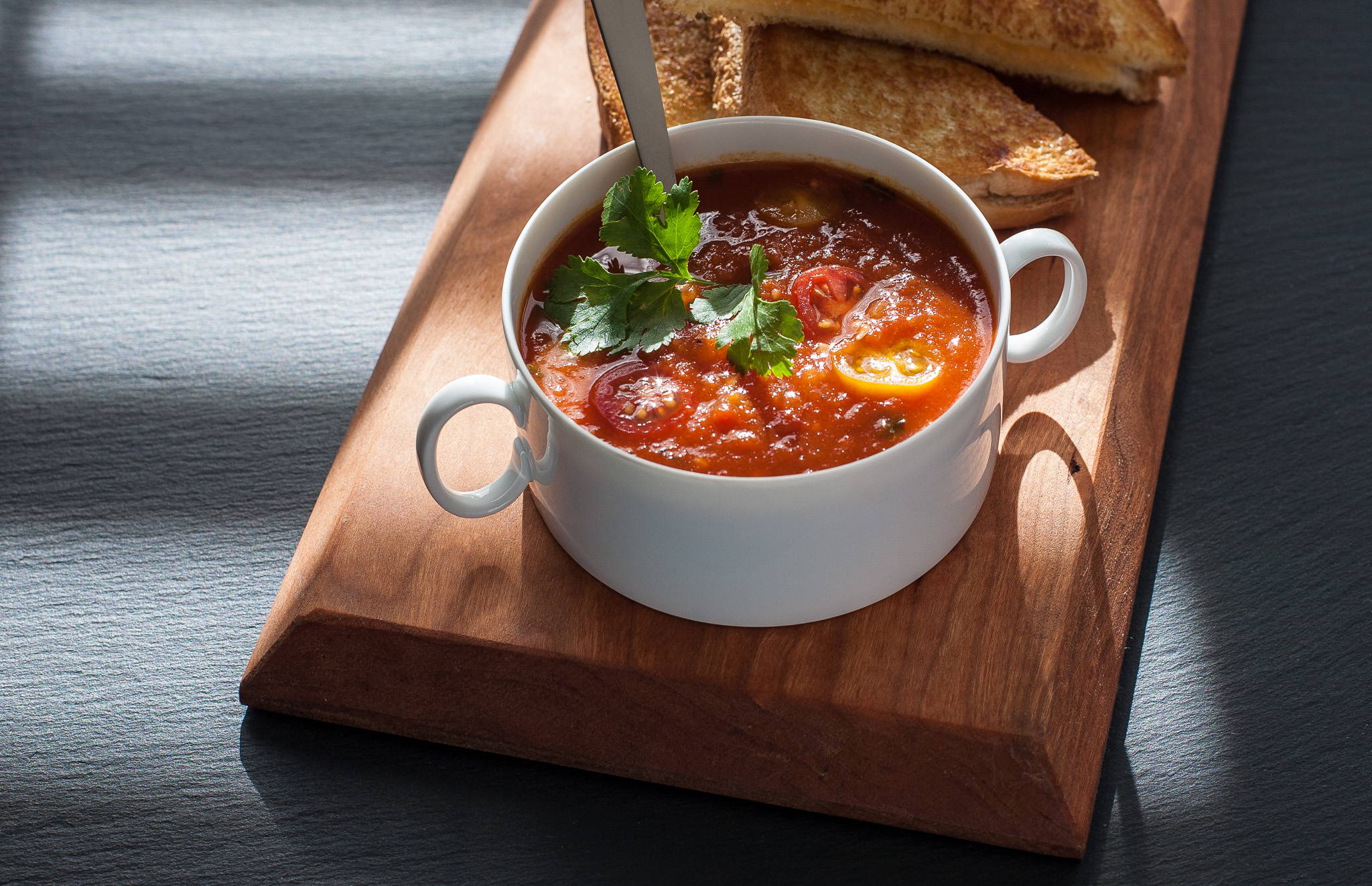 Roasted Tomato Basil Soup
Prep Time: 15 mins
Cook Time: 2 hrs
Servings: 4-6
Ditch the condensed versions and make our version of a classic, soul-satisfying soup! Roasting the tomatoes adds a delicious depth of flavor, while the Paderno World Cuisine Puree Maker removes the skin and seeds in one effortless step….leaving you with a the most delicious puree that serves as the base for this soup. Great the day you make it, however it's heavenly made a day ahead of time!
Ingredients:
2 pounds roma tomatoes, halved
olive oil
salt/pepper
1 small sweet onion, minced
1 tablespoon olive oil
3 teaspoons minced garlic
2 cups tomato sauce
3 cups chicken stock
1 heaping teaspoon cumin
1/8 – 1/4 teaspoon nutmeg, to taste
1/2 teaspoon kosher salt
black pepper
1 1/2 teaspoon sugar (adjust for acidity of your soup)
1 cup loosely packed basil leaves, cut into a chiffonade
Directions:
Preheat oven to 400 degrees.
Place the halved tomatoes into a baking dish and drizzle with olive oil. Season with salt and pepper. Toss to coat tomatoes.
Roast tomatoes for 45 minutes, then allow to cool slightly.
Use a puree maker to remove the skin and seeds from the tomato. Alternately, remove the skins of tomatoes by hand and pulse in blender or food processor.
Heat 1 tablespoon olive oil over medium heat in a saute pan. Add the onion and saute 4-5 minutes, stirring occasionally, until softened and most of the liquid has evaporated. Season with salt/pepper.
Add garlic, cumin, and nutmeg. Stir and cook another 2-3 minutes.
Add the roasted tomato puree, tomato sauce, and chicken stock to the pan. Add the sugar, increasing slightly if needed to balance acidity. Bring to a slow boil, reduce the heat and simmer uncovered for 45-60 minutes until slightly reduced. Taste and adjust salt/pepper if desired. Stir in the fresh basil and continue to simmer for another 15 minutes. Serve while hot, or cool and refrigerate to serve later.